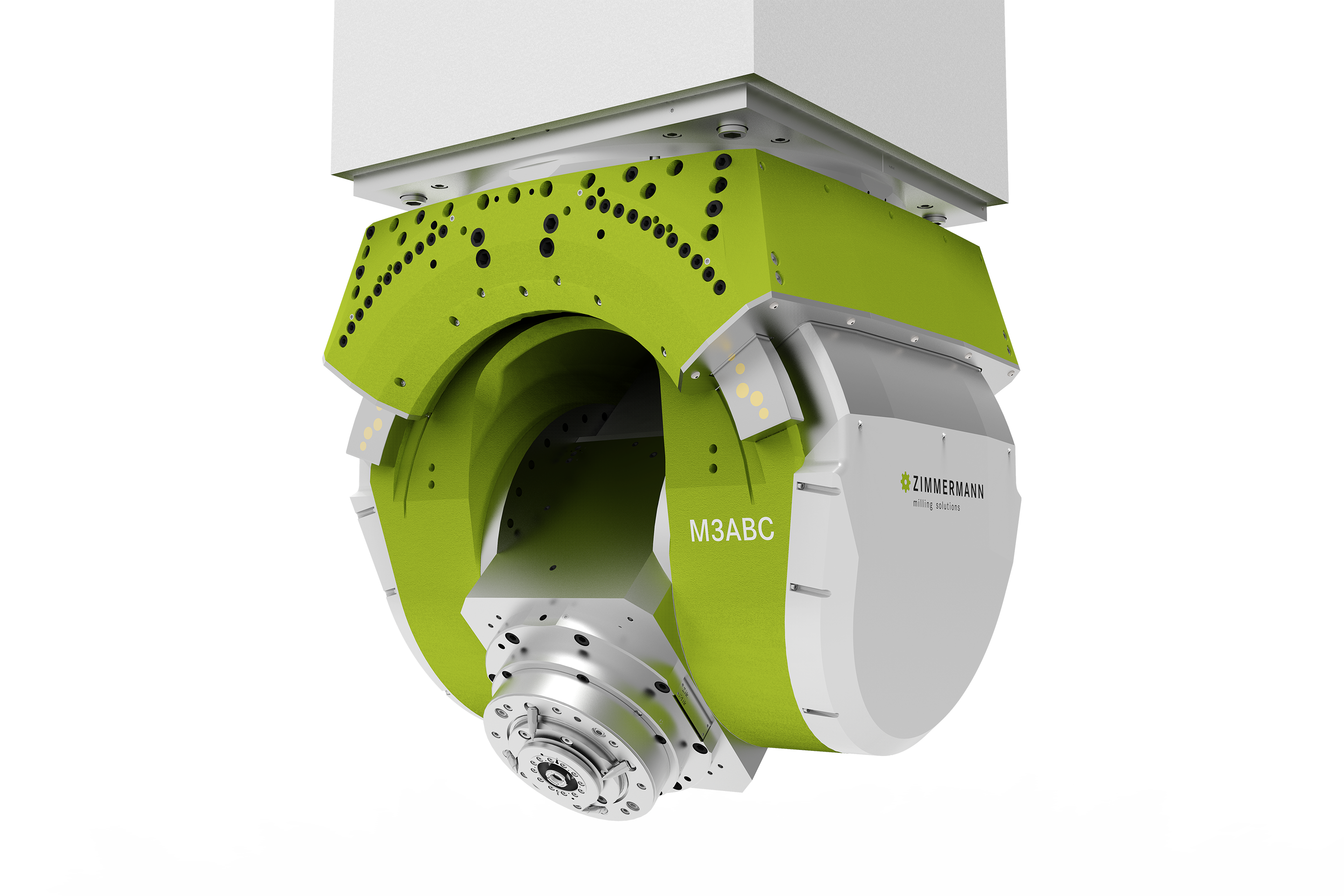 Powerful. Flexible. Efficient.
The dynamic 3-axis milling head M3ABC (A, B and C axis) sets new standards in volume cutting of aluminium, composite and model construction materials as well as in HSC machining of steel and cast iron. Where conventional 2-axis milling heads reach their performance limits, the M3ABC allows different workpieces to be machined four times faster.
The fork head is designed in monobloc design made of cast iron. This design achieves maximum temperature stability and has integrated vibration and vibration damping for maximum surface quality and cutting performance. The M3ABC is fully flexible and has been specially developed for machining structural parts. Maximum cutting volume, short throughput times and high cost-effectiveness are the hallmarks of this machine.
Technical Data
FZP42 & FZU42

Torque Rotary Axes

| | |
| --- | --- |
| in control | A-Axis: 1.200 Nm (885 ft lb) |
| | C-Axis: 1.047 Nm (772 ft lb) |

| | |
| --- | --- |
| clamped | A-, C-Axis: 3.000 Nm (2212 ft lb) |

C-Axis

| | |
| --- | --- |
| Z-Axis < 1.500 mm (59") | 300° |

| | |
| --- | --- |
| Z-Axis ≥ 1.500 mm (59") | 360° |

Milling Spindle 74 kW (99 hp)

Spindle Power

| | |
| --- | --- |
| S6 (40%/2min) | 78 kW (105 hp) |

Torque

| | |
| --- | --- |
| S1 (100%) | 73 Nm (54 ft lb) |

| | |
| --- | --- |
| S6 (40%/2min) | 92 Nm (68 ft lb) |

Frässpindel 125 kW (168 hp)

Spindle Power

| | |
| --- | --- |
| S1 (100%) | 125 kW (168 hp) |

| | |
| --- | --- |
| S6 (40%/2min) | 156 kW (209 hp) |

Torque

| | |
| --- | --- |
| S1 (100%) | 60 Nm (44 ft lb) |

| | |
| --- | --- |
| S6 (40%/2min) | 75 Nm (55 ft lb) |
FZH

External Dimensions

| | |
| --- | --- |
| Length x Width | 698 mm x 610 mm (27" x 24") |

Torque Rotary Axes

| | |
| --- | --- |
| in control | A-Axis: min. 825 Nm (608 ft lb) |
| | B-, C- Axis: min. 1.200 Nm (885 ft lb) |

| | |
| --- | --- |
| clamped | A-Axis: min. 2.000 Nm (1475 ft lb) |
| | B-Axis: min. 1.700 Nm (1254 ft lb) |
| | C-Axis: min. 3.000 Nm (2213 ft lb) |

Milling Spindle 74 kW (99 hp)

Spindle Power

| | |
| --- | --- |
| S6 (40%/2min) | 78 kW (105 hp) |

Torque

| | |
| --- | --- |
| S1 (100%) | 73 Nm (54 ft lb) |

| | |
| --- | --- |
| S6 (40%/2min) | 92 Nm (68 ft lb) |

Milling Spindle 125 kW (168 hp)

Spindle Power

| | |
| --- | --- |
| S1 (100%) | 125 kW (168 hp) |

| | |
| --- | --- |
| S6 (40%/2min) | 156 kW (209 hp) |

Torque

| | |
| --- | --- |
| S1 (100%) | 60 Nm (44 ft lb) |

| | |
| --- | --- |
| S6 (40%/2min) | 75 Nm (55 ft lb) |