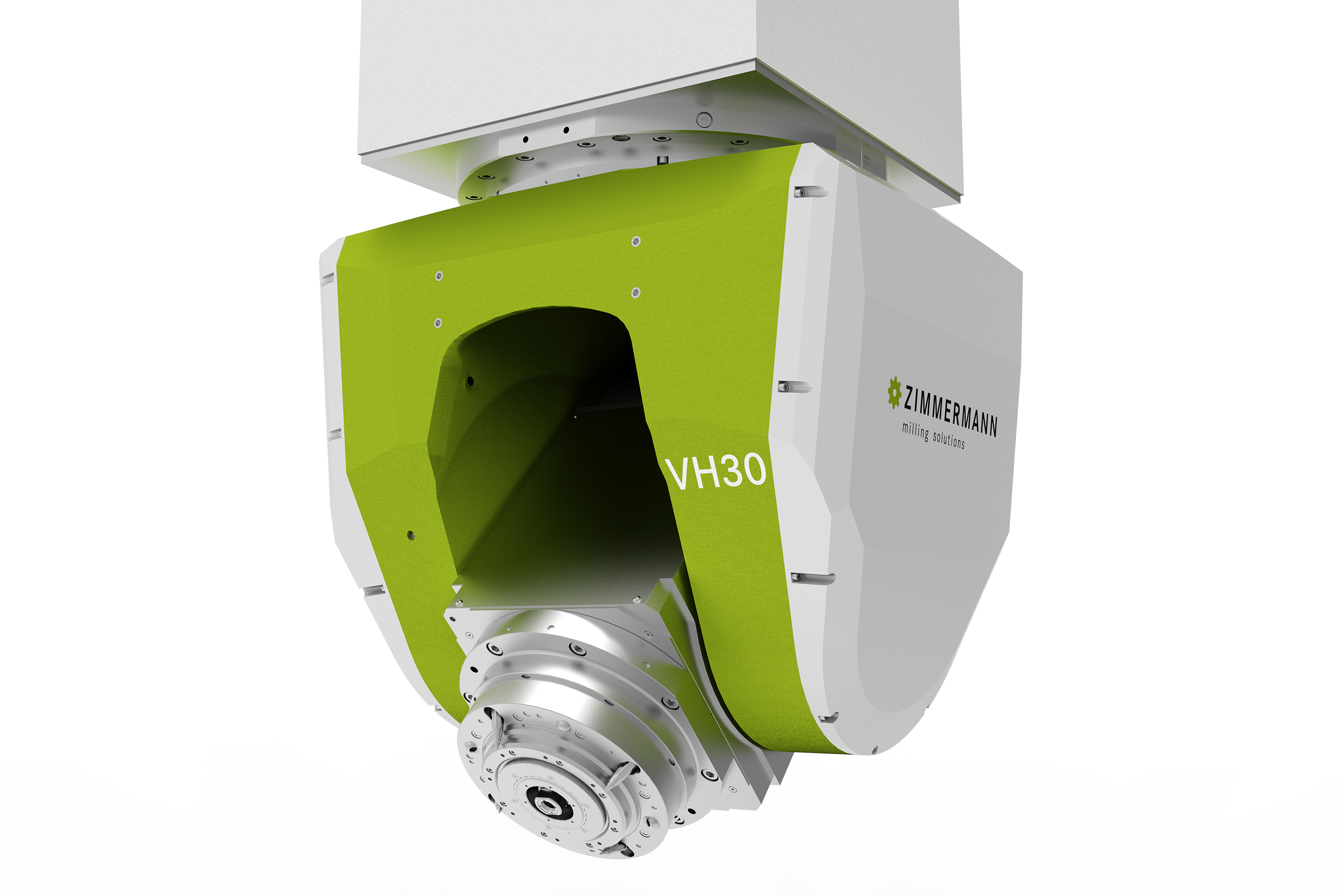 Exact. Stable. Versatile.
The dynamic 2-axis milling heads VH30 has a high-frequency spindle (HF spindle). The fork head is designed in monobloc versions made of cast iron. This design achieves maximum temperature stability and has integrated vibration and vibration damping, which ensures even more precise results during the milling process. The high-torque VH30 milling head offers a plus when it comes to roughing steel and cast iron.
The VH30 achieves low non-productive times during start-up, shutdown and repositioning. It is suitable for milling aluminium, composite materials, steel and cast iron.
Technical Data
FZP37 & FZU37

Torque Rotary Axes

| | |
| --- | --- |
| in control | A-Axis: 1.200 Nm (885 ft lb) |
| | C-Axis: 1.047 Nm (772 ft lb) |

| | |
| --- | --- |
| clamped | A-, C-Axis: 3.000 Nm (2212 ft lb) |

C-Axis

| | |
| --- | --- |
| Z-Axis < 1.500 mm (59") | 300° |

| | |
| --- | --- |
| Z-Axis ≥ 1.500 mm (59") | 360° |

Milling Spindle 25 kW (34 hp)

Spindle Power

| | |
| --- | --- |
| S6 (40%/2min) | 31 kW (42 hp) |

Torque

| | |
| --- | --- |
| S1 (100%) | 119 Nm (88 ft lb) |

| | |
| --- | --- |
| S6 (40%/2min) | 148 Nm (109 ft lb) |

| | |
| --- | --- |
| Swivle Axis – Spindle Nose | |

Milling Spindle 70 kW (94 hp)

Spindle Power

| | |
| --- | --- |
| S6 (40%/2min) | 86 kW (115 hp) |

Torque

| | |
| --- | --- |
| S1 (100%) | 167 Nm (123 ft lb) |

| | |
| --- | --- |
| S6 (40%/2min) | 229 Nm (169 ft lb) |

| | |
| --- | --- |
| Swivle Axis – Spindle Nose | |

Milling Spindle 74 kW (99 hp)

Spindle Power

| | |
| --- | --- |
| S6 (40%/2min) | 78 kW (105 hp) |

| | |
| --- | --- |
| Swivle Axis – Spindle Nose | |

Milling Spindle 125 kW (168 hp)

Spindle Power

| | |
| --- | --- |
| S1 (100%) | 125 kW (168 hp) |

| | |
| --- | --- |
| S6 (40%/2min) | 156 kW (210 hp) |

| | |
| --- | --- |
| Swivle Axis – Spindle Nose | |

Coolant Supply, Minimum-Quantity Lubrication, Air Blowing

| | |
| --- | --- |
| | External and Through Tool |